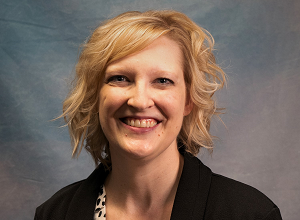 Executive Director
erica@liveunited.us
785-628-8281
Erica Berges has been with the United Way of Ellis County for the past 7 years, first serving as Administrative Assistant and then in October 2019, stepping into the role of Executive Director.
A graduate of Fort Hays State University, earning her Bachelor of Fine Art degree, Erica has spent the last 20 years as a Hays resident.
Erica is responsible for being the public representative of the United Way of Ellis County and represents the mission of the United Way to those in the local community.  Her role includes fundraising, public relations, volunteer engagement and collaborative community initiatives.  In a small office of 2 staff, as executive director, Erica is responsible for all operations of the organization.
"I love that I get to spend every day supporting agencies and their work, that is focused on helping the people in the community.  I am thankful each day that people trust the United Way to be responsible with their charitable gifts to make a difference."
One of her proudest accomplishments during the pandemic was seeing the community come together to feed kids for a week when the school district had to shut down their program.
"It was amazing to see how people stepped up and helped us put this program together in less than a day.  With collaboration from Downtown Hays Development Center, the Hays Chamber, The Press, and the volunteers who helped, we were able to serve over 3,000 meals that week."